DAILY NEEDS
Siena Francis House relies on the generosity of caring members of our community to help us serve the many hundreds of men and women experiencing homelessness who seek our assistance, daily. Below is our Daily Needs List of in-kind items we appreciate receiving as donations. Donations are accepted at the Siena Francis House's Donation/Loading Dock from 8:00 am until 5:00 pm, Mondays through Saturdays. The dock is closed on Sundays and major holidays. The dock is located in our emergency shelter, located at 1117 North 17th Street in Omaha, although only accessible from 16th Street. The dock entrance is located on the west side of 16th Street, a half block north of 16th & Nicholas Street.
The courteous folks staffing the dock will give you a receipt at the time you make your donation.
If you have any questions about making an in-kind donation, please call or text our Donation Manager, Beth Haig, at 402-677-3085. If you have specific questions regarding food donations, please contact our Kitchen Manager, Alonzo Wilson, at 402-341-1821, ext. 3720.
Thank you for considering making an in-kind donation to the Siena Francis House. We are very grateful!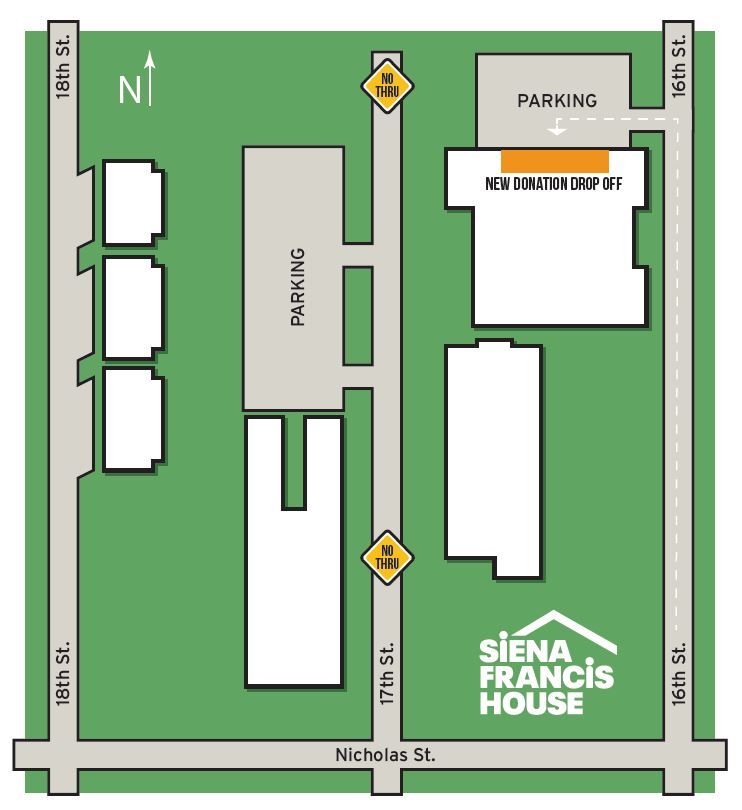 IN AN AVERAGE MONTH WE USE:
| | |
| --- | --- |
| 4,000 rolls of toilet paper | 800 pounds of coffee |
| 1,500 pounds of produce | 2,000 pounds of meat |
| 1,800 pounds of canned vegetables | 1,400 bars of soap |
| 350 dozen (4,200) eggs | 600 pairs of socks |
| | |
Below are categories of in-kind donation needs, along with examples from each category.
| Personal Hygiene | Paper/Plastic | Cleaning Products |
| --- | --- | --- |
| Deodorant | Toilet Paper | Dish Soap |
| Bath Soap | Trash Can Liners (13 &15 gallon) | Laundry Detergent |
| Acetaminophen and Ibuprofen | Surgical Gowns (XL) | Laundry Detergent "pods" |
| Cough Droops | | Liquid Bleach |
| Antibiotic Ointment | | |
| Lip Balm | | |
| Kitchen | Linens |
| --- | --- |
| 18" Heavy-Duty Aluminum Foil | Bath Towels |
| 18" Plastic Wrap | Washcloths |
| Vinyl Gloves | Twin/Single Sheet Sets |
| Napkins | Twin/Single Blankets |
| 8 oz. Styrofoam Cups | Standard Pillows/Pillowcases |
| Clothing for Men and Women | Food |
| --- | --- |
| Jeans | Canned Fruits and Vegetables |
| Socks | Fresh Fruits and Vegetables (tomatoes, cucumbers) |
| Shoes | Coffee (Caffeinated, Unflavored) |
| Underwear | Condiments (Salad Dressing, Salt and Pepper Packets, etc.) |
| Winter Outerwear | Food Seasonings (e.g. paprika, garlic, thyme, cumin, chili powder) |
| | Sugar Packets |
| | Snacks for Sack Lunches |
| | Meat Items (e.g. ground beef, roasts, etc.) |
| | Extra Virgin Olive Oil & Vegetable Oil |
| | Bottled Water |
Miscellaneous
Duffel Bags
Backpacks
Re-usable Water Bottles
WE DO NOT ACCEPT THE FOLLOWING ITEMS:
| | | |
| --- | --- | --- |
| Furniture | Mattresses | Appliances |
| Home Decor | Electronics | Computers |
---