30 Years of Kindness - & COOKIES - Volunteer Spotlight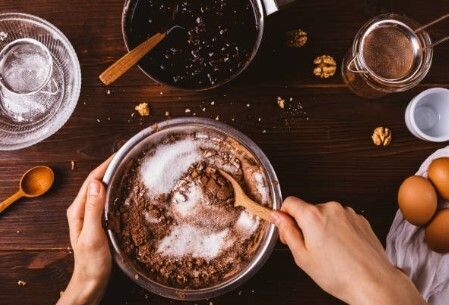 We are blessed by so many wonderful volunteers who help us serve those in need. Today, we would like to tell you about Luanne, who has been sharing her time and talent with Siena Francis House for 30 years.
A kindhearted individual with a passion for baking, Luanne came to us with a desire to give back and quickly found her place in our kitchen. Before long, Luanne's warm smile and generous spirit — which, you will find out, seemingly has no bounds — made her a favorite among staff and guests alike.
During one of her volunteer shifts, Luanne and her group had an idea. Each person would make something to contribute to a meal for our guests. Luanne settled on cookies… a lot of them.
She arrived the following week with 600 chocolate chip cookies in tow! Our guests could not believe it. All those cookies. Just for them! Of course, it was not just the treats that made Luanne's gesture so special. It was the time and extra effort she put into them. Each cookie was made with love and care, and our guests could feel it. It was a delicious reminder that even in the toughest times, there are people who care and are willing to go the extra mile to make a difference.
Since that memorable day, Luanne has continued to bake cookies for our guests. When asked why she gives so selflessly, her response was as gracious as her baking: "I have to have something to do, and it only takes me four hours."
Luanne's baking is a testament to the power of small acts completed with great love. We are incredibly grateful for her and all the others who remind us that there is so much good in our world. Thank you, volunteers, for all that you do to instill hope in our guests and bring smiles to their faces.
---