As the December and January temperatures dipped into single digits, Helen and James were unable to withstand the cold, and requested shelter at Siena Francis House.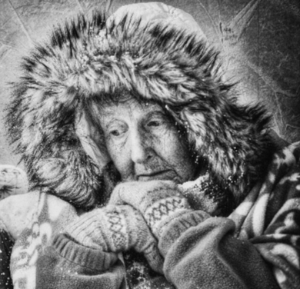 Helen (pictured) and James, an elderly married couple, are two of the many hundreds of people seeking shelter at Siena Francis House during our cold Nebraska winter. This couple had been living in a tent in the east area of the city, but the freezing temperatures and wind were more than they could stand. Even though we were operating at one hundred and seventy percent of capacity in our shelter, we made room for Helen and James.
Before she was homeless, Helen worked part-time as a hostess at a local restaurant, while also caring for James, who is disabled – a progressive foot infection necessitated having his toes, foot and, ultimately, his left leg removed, below the knee. With James in a wheelchair, and the infection still progressing, Helen found herself missing work more and more, in order to care for James and take him to medical appointments.
In mid-summer of last year, Helen's manager at the restaurant where she worked approached her as a shift was ending: "We're going to have to let you go" was the last thing Helen heard, abruptly ending 13 years of dedicated service.
Helen and James had barely been able to pay the rent at their studio apartment even when she was working at the restaurant. Now, with Helen out of a job, it took only a couple of months to go through their meager savings. After they missed a number of rent payments they were evicted.
With no children and no relatives in town – and not wanting to be a burden on anyone – Helen and James decided to live in a tent on some land not far from the river. Having never been homeless before, this elderly couple struggled to maintain some semblance of normalcy. Getting James to his medical appointments proved to be the most difficult. Still, the weather was relatively nice this past fall and early winter, and the two of them were together, which is what they wanted most.
As the December and January temperatures dipped into single digits, though, Helen and James were unable to withstand the cold any longer. Helen and James had never even considered asking anyone for assistance before, but Helen states that they "swallowed their pride" and requested shelter at Siena Francis House. Even though we were terribly overcrowded, we made room for them.
Since the day they arrived, this family has a warm place to sleep, enough to eat and clothes to wear – a safe and secure place to temporarily call home. We also have taken the two of them to James' medical appointments, as well as helped them start to work on a plan to obtain appropriate housing, through the assistance of one of our partnering agencies.
As the days and nights get colder, more and more hungry and desperate people find themselves on our doorstep, in need of something to eat and a warm place to lay their head. Siena Francis House is open 365 days a year, and is the region's largest shelter. The influx of homeless people at this time of year puts a strain on our resources. We're able to accommodate this increased demand because of the gifts provided by generous people like yourself.
Will you please give a gift today?  Your donation will help care for persons like Helen and James, and so many others like them. Stories like theirs are not uncommon, and they really had nowhere else to go in this terribly cold weather. Siena Francis House tries to never turn anyone away, and we are dedicated to providing life's basic necessities to so many struggling people who find themselves in need of our assistance.
Helen and James continually share with us how much they appreciate everything they have received since arriving at our shelter.  We remind them that our services are only possible because of the support from caring people who share our mission of helping those in need.
Will you please donate online now? CLICK HERE. We truly need your help to provide food, shelter and clothing to the many hundreds of hungry and homeless persons show up at our door every day.
Please know how grateful we are to you for helping Siena Francis House provide these basic human services to the poor and homeless when they have nowhere else to turn. Please also know that these services are only possible because of your generous financial support. Nearly all of the contributions to our homeless shelter come from compassionate members of our community, like you.
Gifts to Siena Francis House are used to provide food, shelter, clothing, and care of the people who turn to us during their hour of need, and are greatly appreciated. All of our services are provided at no cost to our guests. All gifts to Siena Francis House are tax-deductible to the full extent of the law. Our audited financial statements are freely available by writing to Siena Francis House, P.O. Box 217 DTS – Omaha, Nebraska – 68101. Our donor information is kept in strict confidence; our donor lists are never rented, shared, or exchanged with other organizations. The stories in our letters are real. Identifying details have been changed and file photos may be used to protect the privacy and therapeutic interest of our guests. For more information about Siena Francis House or to include us in your estate planning, please contact Siena Francis House Development Director, Tim Sully, at (402) 341-1821.