Something was obviously wrong early one Sunday morning, when one of our shelter staff saw a young woman picking through the trash dumpster out in our parking, apparently searching for food.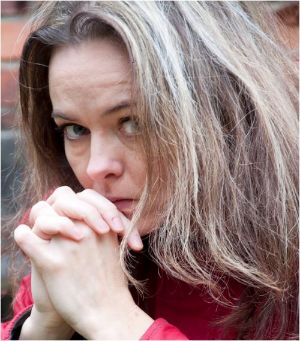 That was our first interaction with Jeannie here at the Siena Francis House. In the days and weeks that followed, Jeannie has told us much of her heart-wrenching story, and how she ended up hungry and homeless, here at the Siena Francis House.
Jeannie had been living in an apartment in south Omaha, working for a manufacturing firm in their billing department. Even though it didn't pay a lot, Jeannie had been able to save a little money that she hoped to use as a down payment on a house someday.
One day early this spring, Jeannie woke up with stomach pain. She didn't pay much attention to it at first. But the pain didn't go away, and actually grew more intense over the next few weeks. Jeannie missed work and, eventually, went to see a doctor.  After medical testing, Jeannie was diagnosed with cervical cancer. Not long after that, the oncologist determined that the cancer had metastasized, spreading to her ovaries. While also suffering from Lupus and depression, Jeannie became even more despondent when the doctors informed her that she would never be able to have children.
Jeannie ended up having two surgeries related to the cancer, and missed weeks of work. Not surprisingly, Jeannie eventually was laid off from her job, furthering her depression.  While she continued to recover from her surgeries, Jeannie did her best to look for work while hospital bills and other expenses mounted. 
To make ends meet, Jeannie used the small amount of money she'd set aside for a house. Late this summer, with her savings gone, Jeannie's realization that she could not pay her rent drove her further into what was becoming the lowest time in her life. She missed several rent payments and was given an eviction notice. She eventually couldn't even afford food.
When she was finally evicted in late August, Jeannie was hopeless. "I had absolutely no idea what to do or where to go," she said. "I'd never been homeless before, and I don't have any relatives in town…no safety net to catch me."
Having nowhere else to turn – hopeless and nearly starving – Jeannie collected the few possessions she owned and caught a bus to the Old Market area. Jeannie was hungry for something – anything! – to eat. She stopped at the first food source she could find – a trash dumpster – and found some discarded food. Jeannie also discovered an out of the way location under an overpass where she spent the night. Jeannie stayed there for two more nights.
Hungry and homeless, Jeannie's depression consumed her. Jeannie's hope was nearly gone when the police found her one early Sunday morning and gave her a ride to the Siena Francis House. That is when our staff found her rummaging through our dumpster. Naturally, we took Jeannie into our shelter right away and got her a good, nutritious meal and gave her a shelter bed.
Since that time, we've made sure that Jeannie has had enough to eat, clothes to wear, and a safe and secure place to temporarily call home. We've also made sure that Jeannie has seen a professional to help her deal with her depression. Our ultimate goal is to get Jeannie back into housing – our case managers have been working hard to help her achieve this.
At this time of Thanksgiving, Jeannie is grateful for everything the Siena Francis House has done for her. "This experience has humbled me," she said. "But I've experienced so many blessings from so many good people that work here. They really do care."
Will you please make a generous Thanksgiving gift to the Siena Francis House right now by clicking HERE? You can't help but feel good knowing that your gift will almost immediately turn into food and blankets, heat and light, and a warm helping smile for the homeless and broken people who turn to us for care.
Your Thanksgiving gift will be used to help Jeannie, and so many others like her. As a low barrier shelter, we are dedicated to providing all of our services to the hungry and homeless people who come to us in need. Besides filling their plates this Thanksgiving, your gift will also provide hope for a better future for our guests, hope that they could really use right now.
Please click HERE to make your gift today! As the weather is turning colder, we truly need your support right now. Our shelter and the services we provide are only made possible because of generous financial support from caring members of our community, like you. Please know that your Thanksgiving gift will make a real and meaningful difference in the lives of those most in need in our community.
On behalf of Jeannie, thank you and God bless you. I wish you a very happy Thanksgiving.
With gratitude,
Linda Twomey
Executive Director
P.S. Please make your gift soon and please be as generous as you're able – a lot of people are really counting on it. And, in our prayers, there is always gratitude for people like you, who are so wonderful to give to others. Just click HERE to make your secure, online gift.
Gifts to Siena Francis House are used to provide food, shelter, clothing, and care of the people who turn to us during their hour of need, and are greatly appreciated. All of our services are provided at no cost to our guests. All gifts to Siena Francis House are tax-deductible to the full extent of the law. Our audited financial statements are freely available by writing to Sien /Francis House, P.O. Box 217 DTS – Omaha, Nebraska – 68101. Our donor information is kept in strict confidence; our donor lists are never rented, shared, or exchanged with other organizations. The stories in our letters are real. Identifying details have been changed and file photos may be used to protect the privacy and therapeutic interest of our guests. For more information about Siena Francis House or to include us in your estate planning, please contact Siena Francis House Development Director, Tim Sully, at (402) 341-1821.